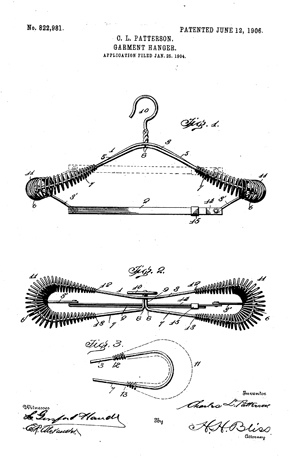 The coat hanger was invented in response to a lack of coat hooks in an office building in Jackson, Michigan in 1903. Albert J. Parkhouse worked for Timberlake Wire and Novelty Company which made lampshade frames and other wire items. One day, he arrived at work to discover that all the coat hooks were occupied. Parkhouse did not like having his winter coat getting wrinkled on the back of a chair all day. He decided to find a solution.
The company produced wire products so there was always wire laying around. Parkhouse grabbed a piece of this wire and twisted it into in two ovals with the end twisted together to form a hook. Another piece was twisted to fit inside the shoulder of his coat. The last piece curled in the center. His new wire creation allowed him to hang his jacket anywhere.
He continued to perfect his invention. Eventually all of the employees were using hangers created by Parkhouse. The company saw the potential of this idea and they applied for a patent for the invention. Because the hanger was created at work, Timberlake Wire and Novelty Company owned the rights to the product.
On January 25, 1904, attorney Charles Patterson applied for a patent using his name as the inventor. On June 12, 1906, US Patent #822,981 was granted to Patterson and assigned to the owner of the company, John B. Timberlake. The patent was for a garment-hanger invented by Parkhouse.
Although other patents were granted for different versions of garment-hangers, the most successful hanger sold was that of the Timberlake Wire and Novelty Company. Modern models of the hanger are based on this design. The company made a fortune off of the Parkhouse's idea and he never received any additional compensation. He eventually quit and moved to California where the started his own wire novelty company.