Long before a rapper delighted television audiences with his wizardry and spray paint, Henry Ford put the world on wheels.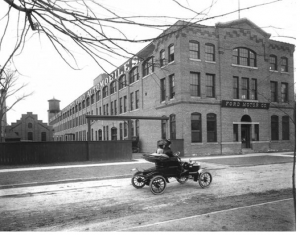 It was September 27, 1908 … and a Model T was born.
A Piquette Avenue manufacturing plant in Detroit, Michigan was the birthplace of the Ford's first Model T. Business started off slow but demand developed quickly. After an initial first trickle (eleven cars total) 12,000 Model T's would later be rolled out and prior to a new plan: Production was moving to a new place in Highland Park, Michigan.
There, over 15 million more "Tin Lizzies" were made until production ceased in 1927. Wildly popular, consumers took to customizing the inexpensive, light weight, easy-to-repair ride for five.

In it's hey-day, the T's were turned into everything from trucks to tractors to trailers and even a church on wheels.
A possible precursor to the television show Pimp My Ride perhaps?
Maybe. But Henry Ford was no rapper (or at least there's no mention of it on the records or even anything close). But, while the antics of Xzibit never ceased to amaze, Ford got his start here, in the "experimental room".
"Here was a place for his hand-picked team to focus in private on developing new ideas for a new car. Other than Ford, who turned 44 in 1907, the key people working in the experimental room on a regular basis were all in their twenties," said the piquette plant website.
The Ford Piquette Avenue Plant is now recognized as one of the most significant automotive heritage sites in the world and is recognized on the U.S. National Register of Historic Places, (2002) as a U. S. National Historic Landmark, (2006) along with being a U. S. Historic District Contributing Property, (2004) and a Michigan State Historic Site, (2003).