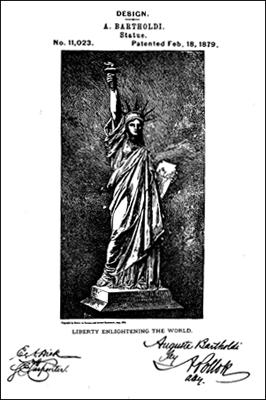 Did you know the subject of America's most famous design patent wasn't actually designed by an American?
On February 18, 1879, French sculptor Auguste Bartholdi received US Patent D11,023 for a statue design – one he called, "Liberty Enlightening The World."
You know her as The Statue of Liberty. She stands tall on her pedestal on Liberty Island, a beacon of hope for Freedom seekers the world over.
But, did you know the greatest symbol of American Opportunity almost didn't happen due to a lack of funding? It's true!
Auguste Bartholdi was commissioned in 1876 – the year of the American Centennial – to create the statue as a gift to America; it would be a symbol of friendship between France & the US for everyone to see. France would raise the money to build the sculpture, and America would handle the pedestal.
Simple, right?
Not really.
Even with Bartholdi's patent – which he got specifically to allow him to create and sell replicas of Lady Liberty as a fundraising effort – France still had trouble finding enough public support. It took numerous auctions, art exhibits, lotteries and theater events were used to raise the needed funds from their end.
Construction of the statue began in 1875 and was not completed until nine years later in 1884. Alexandre Gustave Eiffel, the designer of the Eiffel tower, planned the skeletal framework for the statue. A larger-than-life representation of the Roman Goddess Libertas, Bartholdoi used two different women as models. The face is said to be a likeness of his mother. His wife posed for the arms and torso of Lady Liberty.
Meanwhile, America was having her own bit of funding problems. That is, until Joseph Pulitzer's shame campaign against the wealthy and middle class alike spurred enough interest to finally fund the pedestal in 1885, just months before the statue – which had been shipped from France July of 1884 – arrived in New York.
So finally, on June 19, 1885, the world's single, most powerful symbol of Freedom arrived in America in 350 pieces packed into 214 crates. They were reassembled in their place on Bedloe's Island in New York Harbor. On October 28, 1886, before thousands of spectators, President Cleveland dedicated the Statue of Liberty on the now-named Liberty Island.
Lady Liberty stands 305 feet and 1 inch tall from its base to the tip of the torch and weighs 450,000 pounds. Each year over 3 million people visit the statue that has welcomed immigrants to Ellis Island since 1892.