Stove Top Stuffing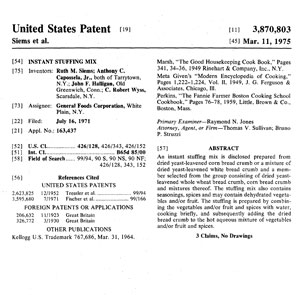 U.S. Patent No 3,870,803 was issued to General Foods on March 11, 1975 for Instant Stuffing Mix. Ruth Siems, Anthony C. Capossela Jr., John F. Halligan and C. Robert Wyss are listed as the inventors. The patent was based on the correct size of the bread crumb for successful rehydration. A bread crumb that is too small will turn into a soggy mess when water is added. If the crumb is too large, the water will not soften the crumb.
"The nature of the cell structure and overall texture of the dried bread crumb employed in this invention is of great importance if a stuffing which will hydrate in a matter of minutes to the proper texture and mouthfeel is to be prepared."
The idea for the instant stuffing came from the marketing department of General Foods but the research and development team had to create the product. The test kitchens, chefs and employees were all working on developing the stuffing. Ultimately, Siems' idea was the one chosen. Kraft, who now owns the Stove Top Stuffing brand, sells over 60 million boxes around Thanksgiving.
Turkey Deep Fryer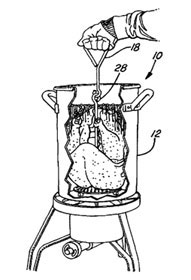 U.S. Patent No 5,758,569 was issued to Rodney Barbour for a Poultry frying apparatus on June 2, 1998.
A frying apparatus is disclosed which is specifically designed for deep-frying turkeys or other similarly shaped food items. The frying apparatus has a central rod attached to a perforated plate that is used to support a turkey as it is lowered and removed into a large container of hot oil. The frying apparatus also includes a grab hook that releasably couples to the central rod and allows a user to avoid burns from hot oil exposure when removing or inserting the turkey.
Instant Mashed Potatoes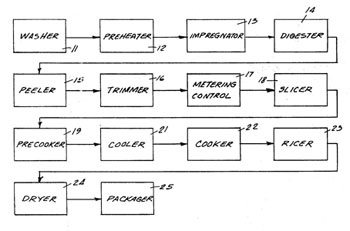 U.S. Patent No 3,574,643 was issued to Overton Machine Company on April 13, 1971 for a Method Of Producing Dehydrated Potato Flakes. The flake is a dehydrated, heavily processed potato that can be heated with water and fat and resembles home made mashed potatoes.
"This invention now provides a process and apparatus for the production of uniform, high-quality dehydrated potato flakes which will reconstitute into a most palatable food which cannot be distinguished from the naturally occurring cooked potatoes," the patent contends, "despite variations in growth techniques, geographical areas or potato varieties and with substantial reduction of required processing materials, equipment, time, and cost."