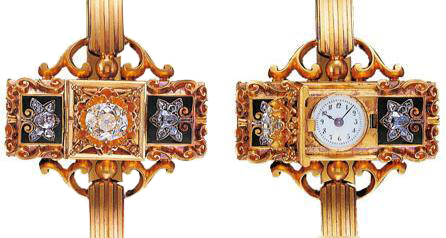 Wristwatches were originally designed for women to be worn as a type of jewelry. The first wristwatch was manufactured by the Swiss watch company, Patek Philippe in 1868. The watch was sold to Countess Koscowicz of Hungary in 1876. The first wristwatch was more ornamental than a time keeping device. It was very ornate, clunky and shaped like a triptych. The time piece was framed by two diamond-and-gold panels and was wound with a key.
After the introduction of this watch, it became very popular for women to wear a "lady's bracelet watch." A man would never wear a wristwatch as pocket watches were the preferred time keeping device for men. It was not until 1904 when the first wristwatch was actually designed for a man, that the perception changed.
Louis Cartier designed the first wristwatch for a man when he was approached by pioneer aviator, Alberto Santos-Dumont. Santos-Dumont needed a time piece that he could see easily while flying. Cartier designed for him what has become the modern wristwatch. The watch was designed to be worn on the left hand with the stem to the right. Horns were used to attach the watch to the band and there was a clasp for securing the watch on the wrist. The popularity of both Santos-Dumont and Cartier led to men slowly accepting the idea of wearing a watch.
Once World War I began, the officers and soldiers of the war quickly noticed that looking at a wristwatch was much quicker than trying to pull a watch out of your pocket. As the battles increased, soldiers needed to synchronize time in order to attack at the precise moment. For this reason, Armies began manufacturing cheaper and reliable watches for their infantry and pilots. At the end of the war, both American and European soldiers were allowed to keep their watches. This led to an increased popularity for wristwatches among men.